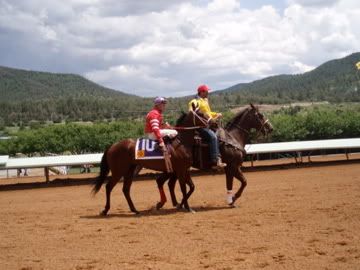 Welcome to real cowboy country. We're driving down the road near the
Billy the Kid Casino
when Nora says we should go check it out.
That big casino? Ok then. Upon entering however we are easily distracted by the
horse race track
. We are surprised to find standing is free, and watch a few races. Tractors prepare the race course to be trampled on as a truck drives the starting gate to the appropriate place. We stand so close to the course that Aslin and I are splattered with dirt as the horses charge past us. The horses we bet on, Back by Fact and Show me the Policy, (the only woman jockey, #8, pink) get 2nd and 3rd place - That's bad luck.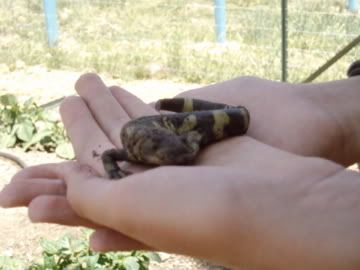 A friendly lizard apparently knew its way back to where it was found, it walked on my hand the whole way. We looked in the field guide and think it might be a
tiger salamander
.
-
Ukiah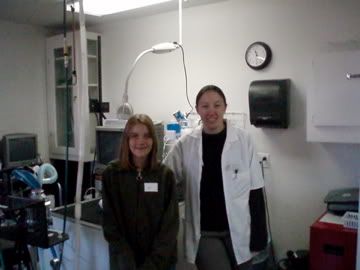 I just met 4 of the greatest dogs ever, Tycho, Anise, Ouzel, and Brie. Tycho and Anise are boys and Ouzel and Brie are girls. Anise is the oldest. Tycho and Ouzel are about the same age and Brie is HUGE but she is just a puppy (the youngest). When Brie is done drinking she will come and drool on you (I know what you are thinking, that's nasty, and yes it is). Anise loves to lie right up on the back door, blocking the dog door is his way of controlling the other dogs. Tycho is a cutie for sure and we love him. We took the dogs for a walk and he got really exited and tried to bite off his leash. Last but not least, Ouzel is the most hyper of all the dogs. On our walk she could run forever! The dogs are all one big bucket of fun.
Aside from the dogs, Luther is a great cook he can make the best french bread, from scratch. Amanda is a wonderful veterinarian she can really do her job, I know because I went to work with her. Plus she is really good at teamwork, working with other people to shave dogs, do surgery and clean teeth.
by-Aslin