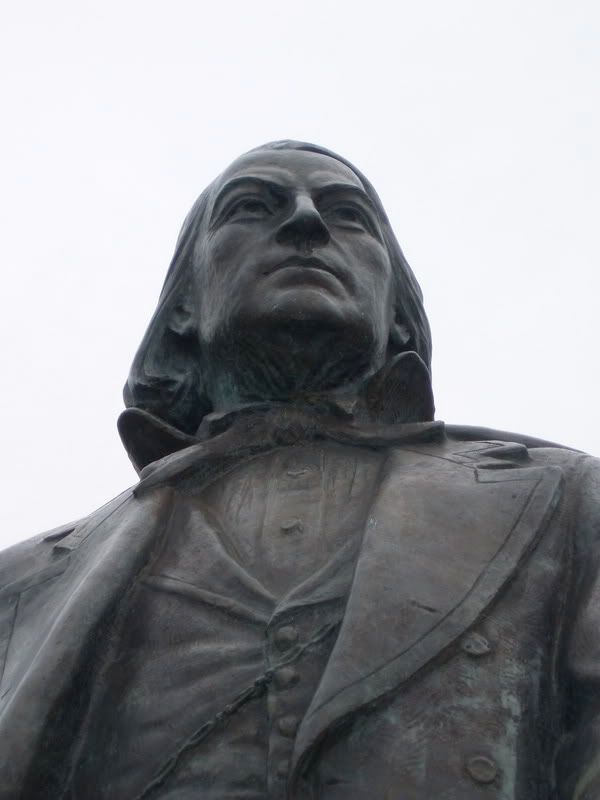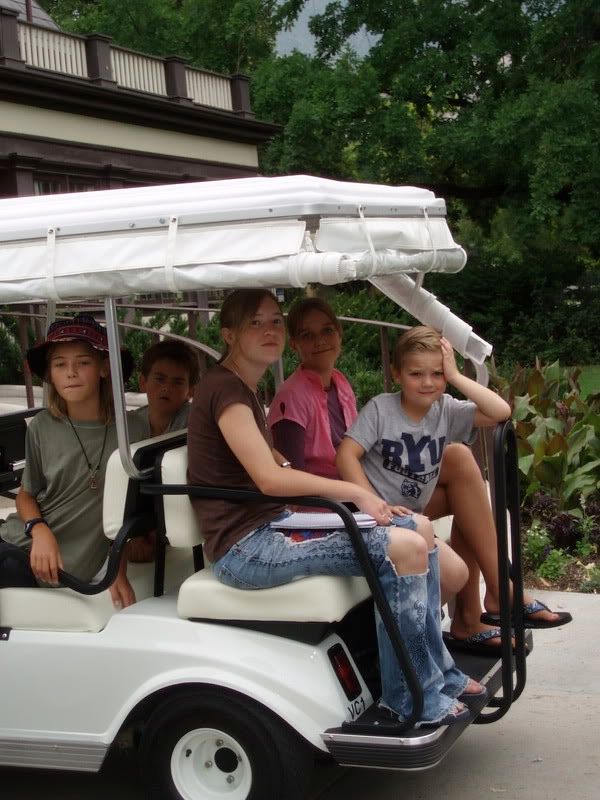 Mahonri Young, 1877-1957, sculpted the likeness of Brigham Young based solely on his mother's description. Stories, not photographs or sketches, informed his vision of the grandfather who died the year he was born. A "social realist," Mahonri's art often depicted common laborers, the
less noble
characters of society. Breaking with such attachment to the value of
realism
, the BYU powers that be altered Mahonri's portrayal of Brigham Young. After years of advocating against beards and the hippie culture/ideals they represented, in
1969 BYU president Wilkinson
moved toward strict dress and grooming codes as part of the university's Honor Code system. By 1971, failure to cut hair or shave could result in suspension with out notice. So, of course, the statue of Mr. Young had to be converted.
(note chisel marks under the chin)
Our chauffeured tour of the
BYU
campus also included drive-bys of the historic library and new fitness facility.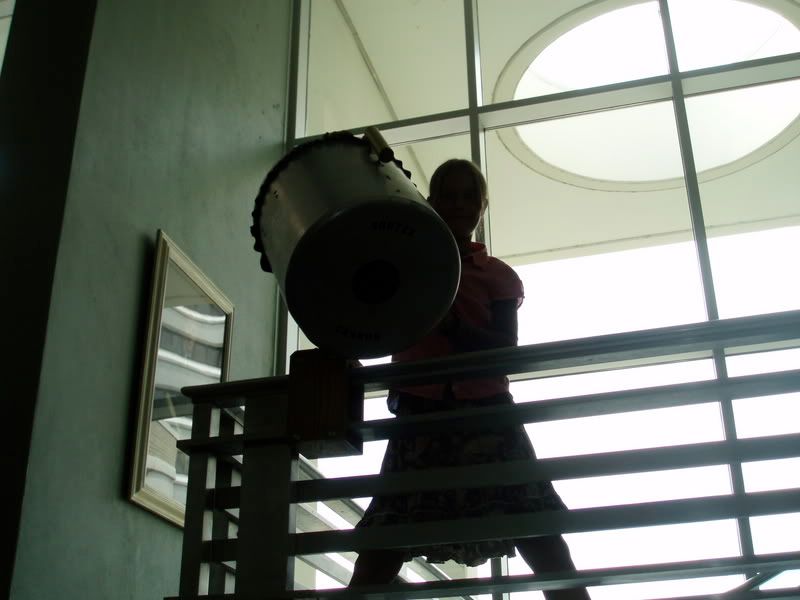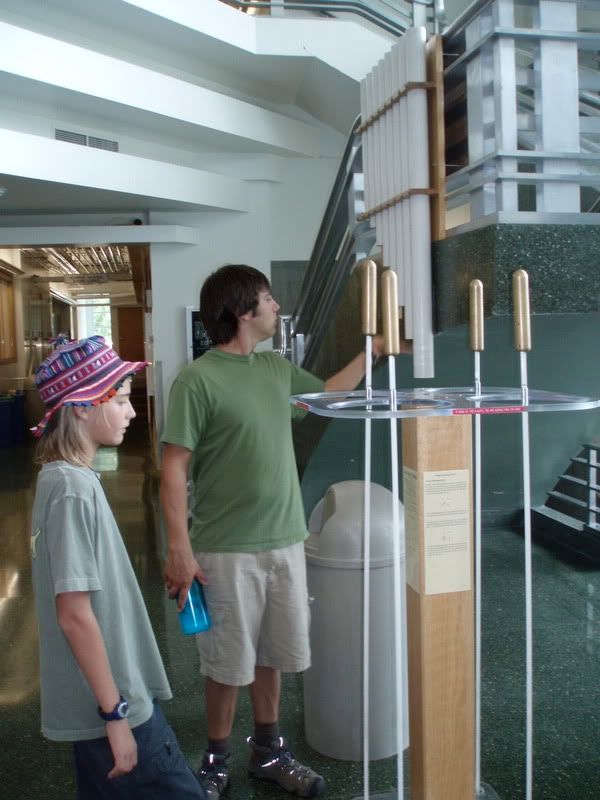 The Eyring science building has an indoor courtyard that doubles as a mini-science center, with hands-on activities from a number of fields. Light and prism experiments are difficult to see for the under 5-foot crowd, but the space density investigation is easily accessible. Except that it is impossible to lift the 4-inch round of
neutron star
. After reaching for a hologram dollar and toying with the movement of cat-tails in the wind, the kids discovered the vortex cannon. Angled just so, a well placed shot can reach an unsuspecting parent 100 yards away.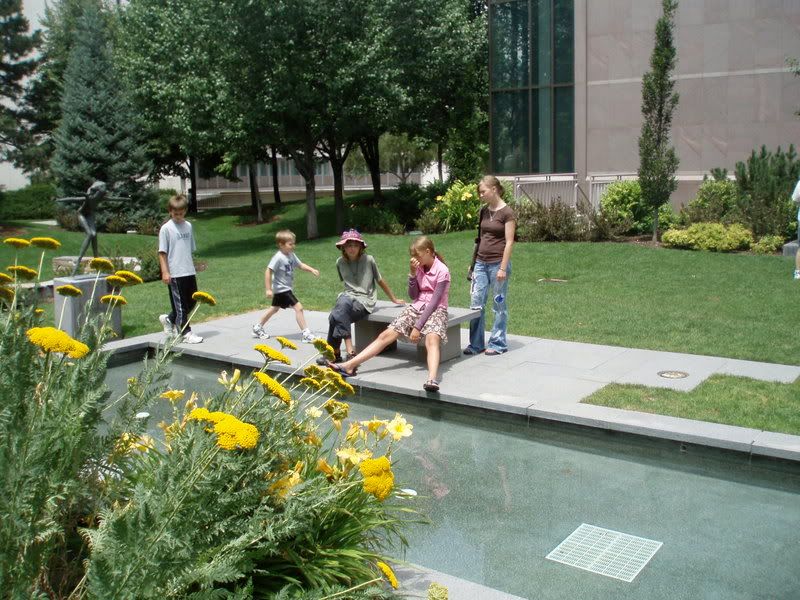 A quick trip through the
BYU Museum of Art
, where an exhibit of European ballet advertisements and portraits compared divas over generations, was followed by inspection of a reflection pond and eventually, a trip to the Creamery. University agriculture and food science programs team-up to produce a few signature flavors, including the carbonated "sparkle" ice cream.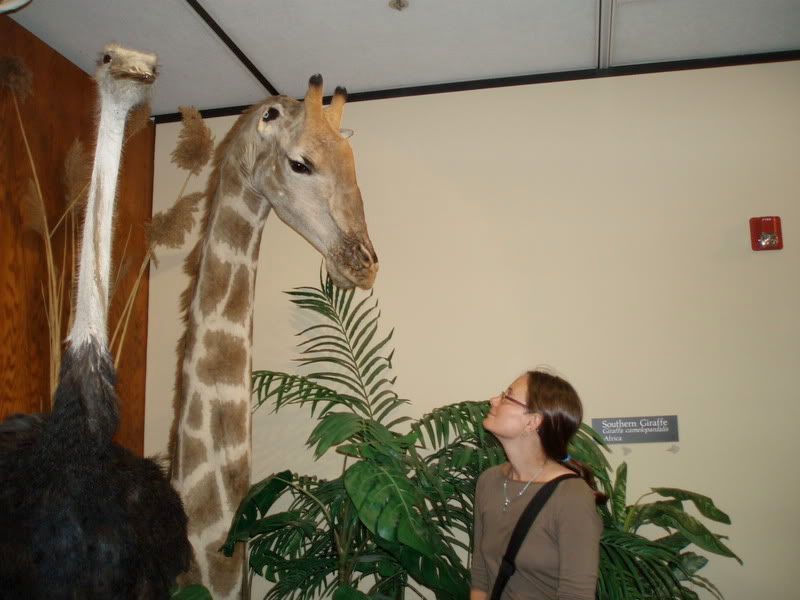 Finally, the
Bean Museum
. Home to
"Shasta" the liger
born at Salt Lake's Hogle Zoo in 1948, a tiny two headed snake and a 22,000 specimen mammal collection. Donald Cox, proud member of the Safari Club, seems to be responsible for most of the
wildlife collection
, prompting the following conversation:
early 20's guy- "Nice, donated after illegal hunting, I'm sure."
early 20's girl- "Yeah, but a lot are just deer, they reproduce really often."
guy- "Rinos don't."
girl- "That's just what we think because we don't see them every day. But they're not endangered or anything. Africa's a pretty big country, I'm sure they're fine."
The Museum is free and open to the public. We didn't view many of the two-million insects on display, but were most taken with the long-neck Gerenuk of east-Africa, the dozens of tiny Asian and African deer, the long-haired Takin of China and the Alaskan Moose.