1-4, in that order. Ukiah's ranking for his hand of selections from Personal Preference's categories: food and drink, people, activities, and potpourri. Predicting none of his preferences correctly, I didn't move ahead on the board.

In Orem, outside SLC, we've spent days playing games, digging in sand, swimming at the neighborhood pool, meeting friends, and talking, talking, talking with my step sister and the cousins.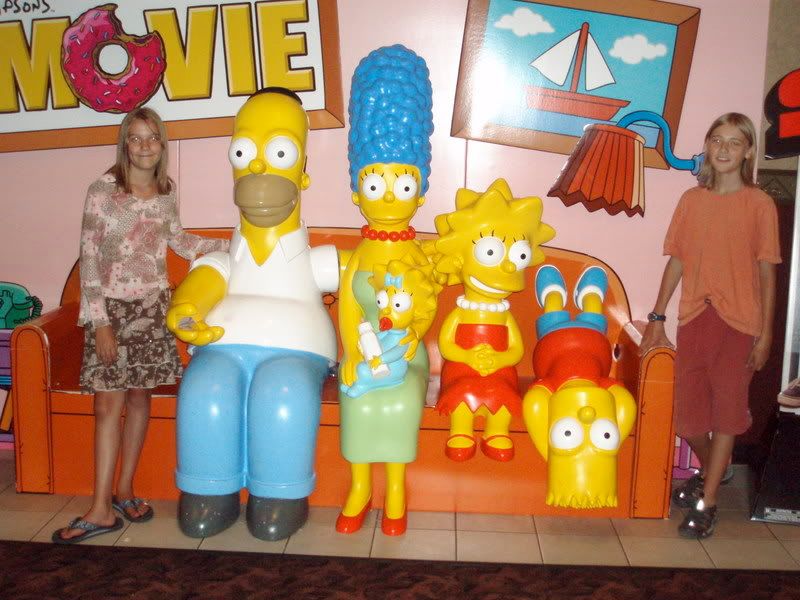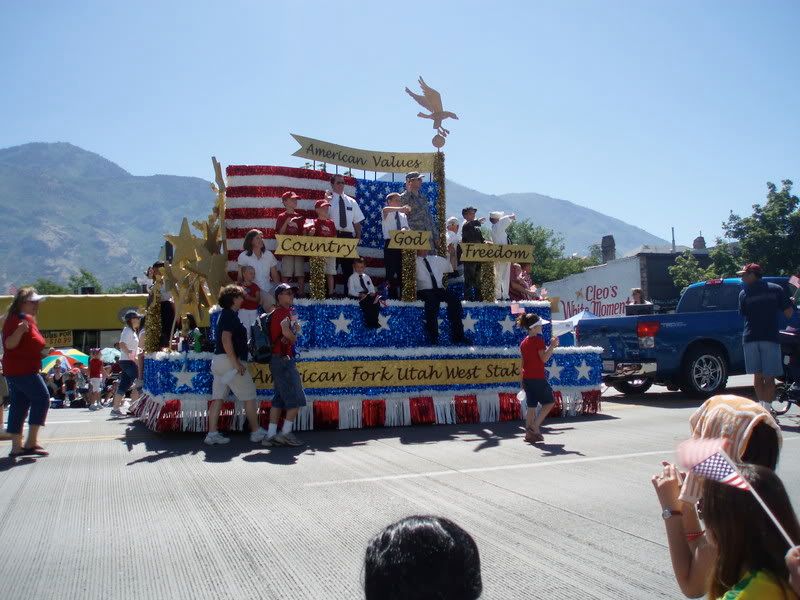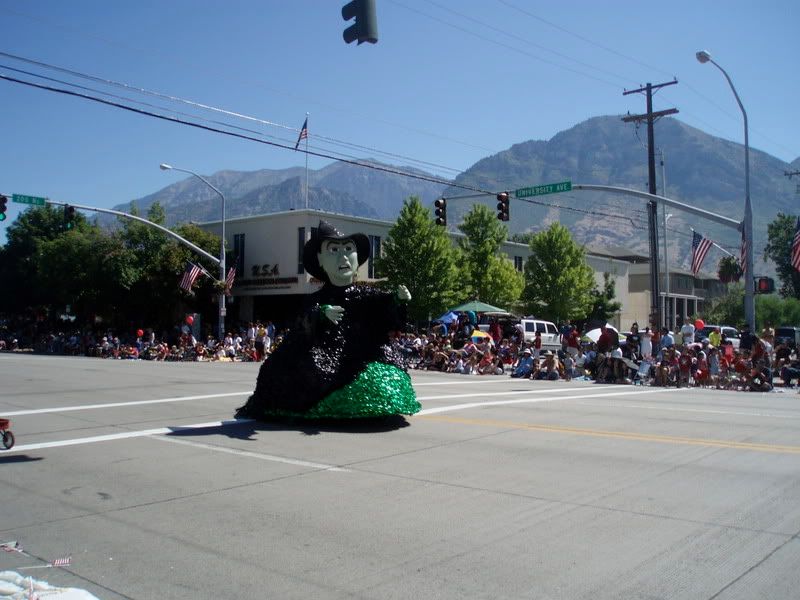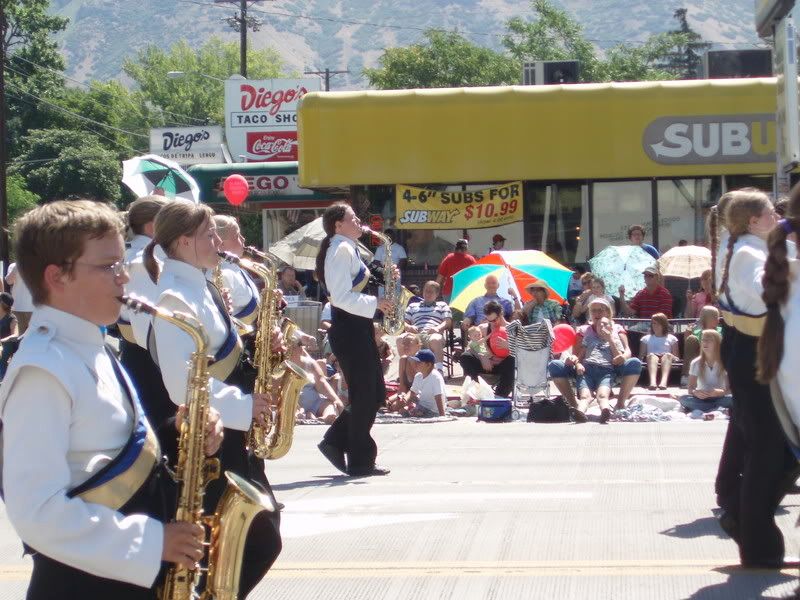 Our first tour of Provo, a failed quest for a coffee shop, ended in mall theater with Shrek the Third followed by a lobby photo op with the Simpson's. Yesterday, we missed the 7am dedication of the neighbor's new flag, despite an invitation complete with delivery of a dozen doughnuts, but made our second trip to Provo for the Freedom Parade. Lia's marching band was near the end, providing plenty of time to people watch and listen.

Young mom to younger children,
"Look, it's the soldiers with their guns! (squeal) They have army trucks and shoot, shoot, shoot to keep us safe!"


"These colors don't run" stretched across a family of t-shirts in front of us.

The blond and bloated local news team waved from a jeep and the city of Lindon worked to lure us to their
Celebration Days
with a promise of "sugar and spice and everything nice" as demonstrated by girls waving from a purple float with a unicorn.

From sun drenched blankets set across the street from
Cleo's White Moments
, home of wedding and baptism gowns, we sympathized with the high school color guard marching in turquoise dresses worn over long black pants and sleeves. The herd of lamas, several bagpipe bands, a giant Garfield balloon and the Wicked Witch of the West brought the displays of military propaganda to an almost tolerable ratio. Lia's band, slated last due to a cross-town rivalry(?), was fantastic. More impressive then the Red Cross stretch-Hummer and at least as entertaining as the Kentucky Fried Chicken float.

The sound of the closing cannon was a sharp reminder of the multiple meaning of "freedom". We miss the nude cyclists of Seattle's Solstice parade and can't help but think next year's Provo parade would be much livelier if campaigning politicians were advised to demonstrate their commitment to freedom by either bicycling the entire parade route, replacing their star-spangled shirts and ties with body paint or limiting the scope of corporate infiltration of the event.

Our Fourth was rounded out by an afternoon hike deserving of it's own blog post and evening fireworks in the cul-de-sac and a brilliant hill top view of BYU's Stadium of Fire.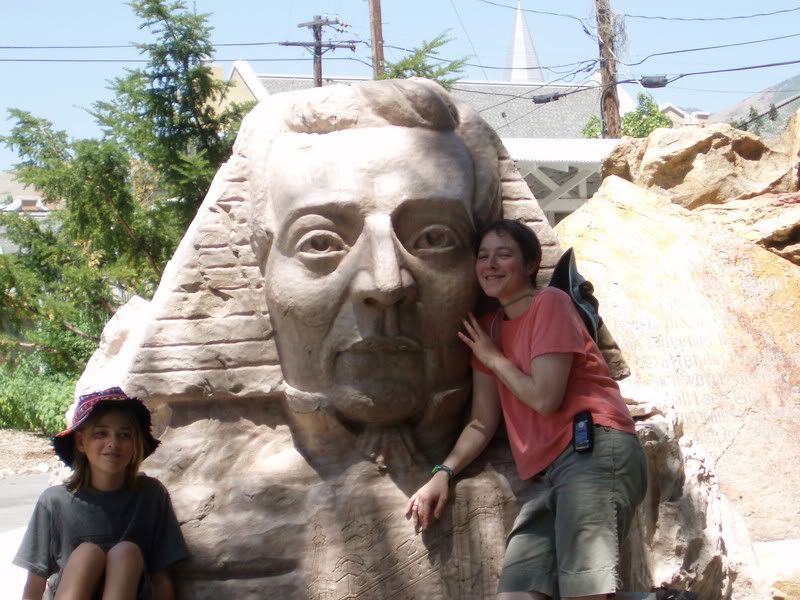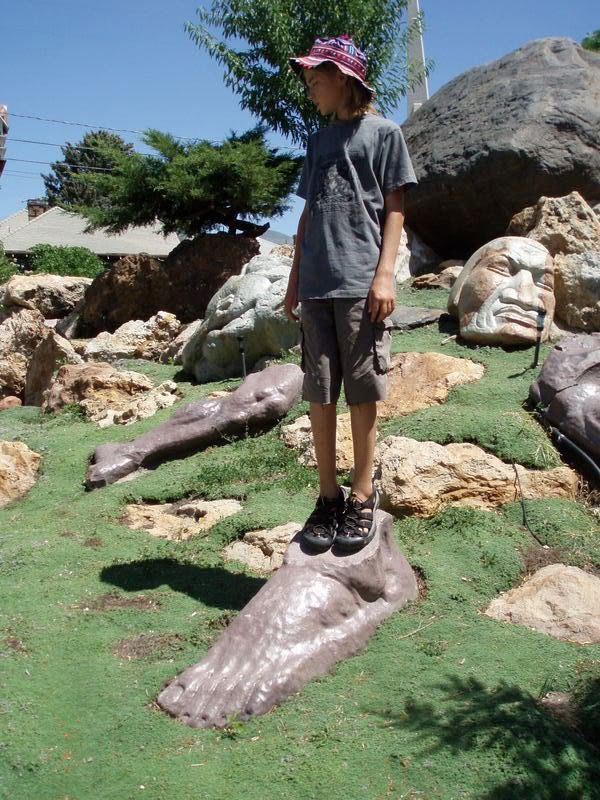 Earlier this week, we connected with Seattle friends for what we later recognized was an inspiring "reason to return home" type-visit. Our whirl-wind tour of SLC hosted by former-resident Bryan, opened at Salt Lake Roasting Company . After veggie lasagna, apricot torte and fantastic coffee roasted on-site, we headed to a city gem. Gilgal Gardens is a backyard showcase of the faith and ego inspired folk art of Thomas Child. In 1945 he began work on the 13 sculptures that "give physical form to his deep-felt beliefs." The garden, a secret treasure loved by high-school kids from across the county, recently saved from demolition, was preserved as a park in 2000.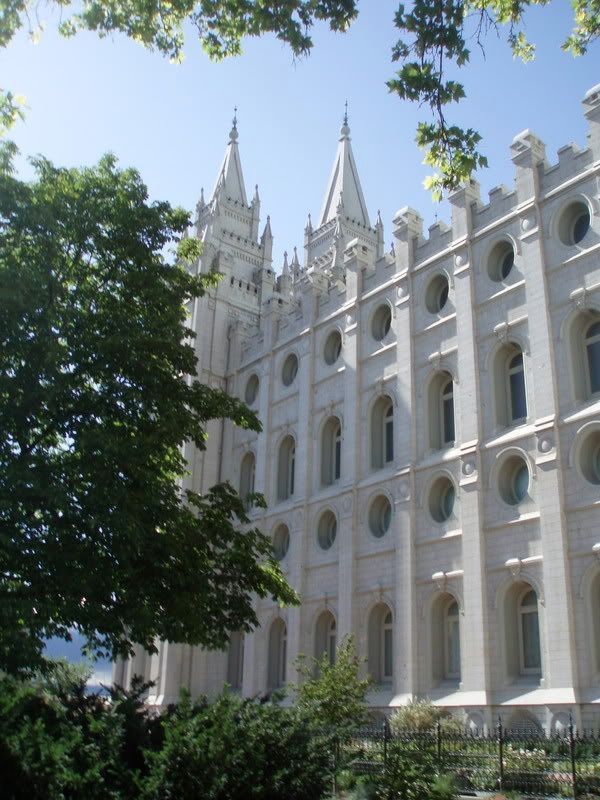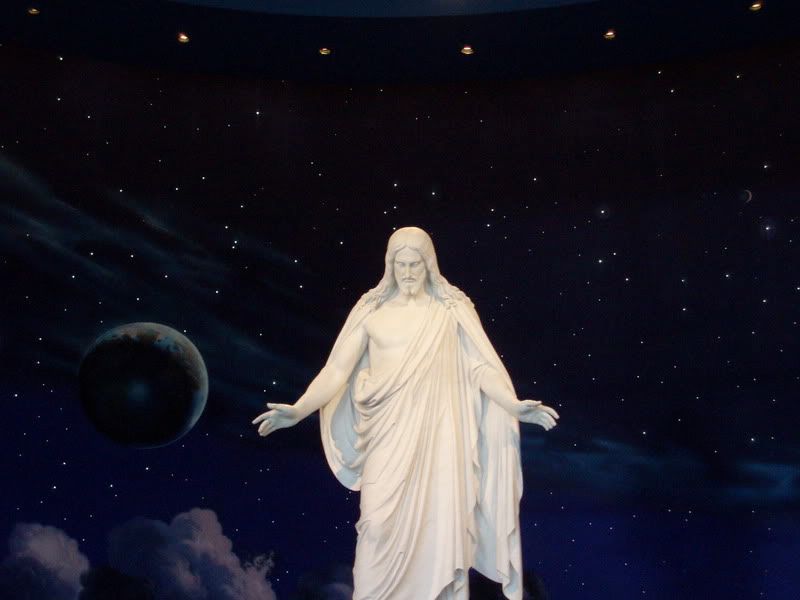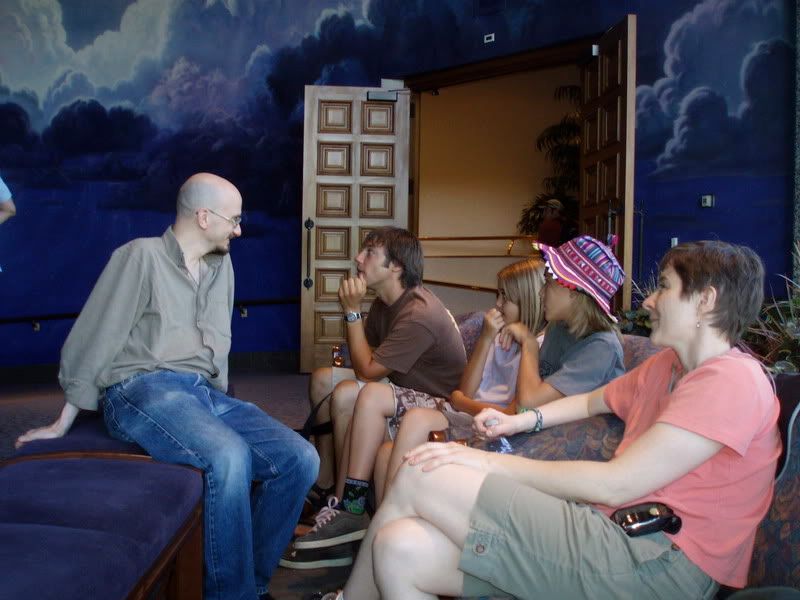 Our tour continued with a stop at the weeping tree of heroine park and a walk through Temple Square. The Salt Lake Temple is a site to behold, fantastic architecture with details depicting the phases of the moon set amongst green lawns, fountains and symmetrical gardens. The visitor's centers offer education on the history of the Church of Jesus Christ of Later Day Saints and glimpses of westward expansion in the pioneer days. Greeters and tour guides wear name tags with the flags of the countries of origin- Italy, Australia, Mexico, Kenya. In the universal Jesus round room, we heard the words of the son-of-God in german and english.

If you're looking for dinner, the Rio Grande Cafe, housed in a historic train station (?), has impressive restrooms and an unreliable juke box. Vegetarians be advised, the rice, beans and enchilada sauce are made with chicken and/or lard. Ukiah highly recommends the guacamole burrito and Aslin appreciates the root beer refills. A drawing and caption version of the game

telephone

kept us at the table an extra hour and still we didn't hear Aslin's musical selection. Sweet Home Alabama. Amanda deserves a refund.


An ice cream night cap at Squirrel Brother's turned into dessert-theater in the parking lot as an unknown teen insisted his friends, including the employee with an arm cast, fight him. They declined. Adding insult to injury, they took his keys, insisting that they couldn't let him drive in
that
mood.