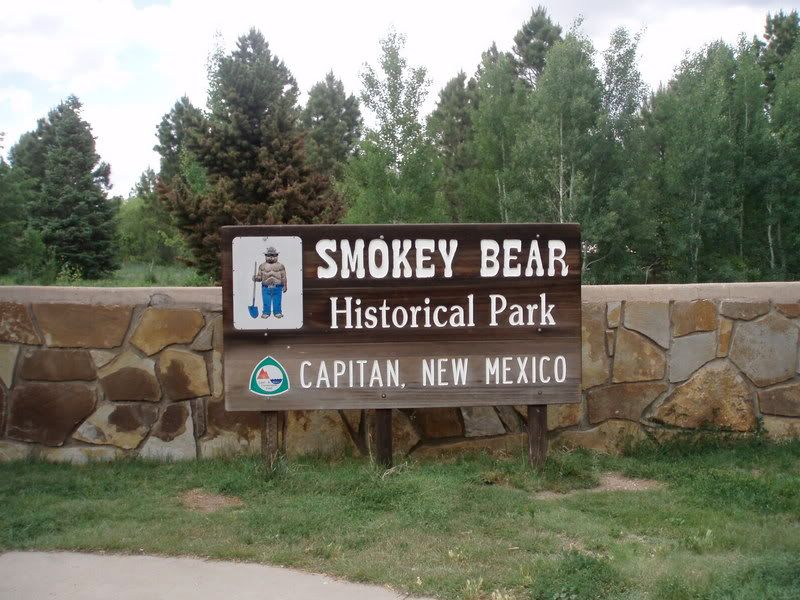 North of Ruidoso Downs, we made a quick stop in Capitan, home of
Smokey the Bear
. I thought this fire or the carbon of a similar forest incident was behind the
Valley of Fire
. Nope, lava flow dates to well over a thousand years before the little cub was rescued.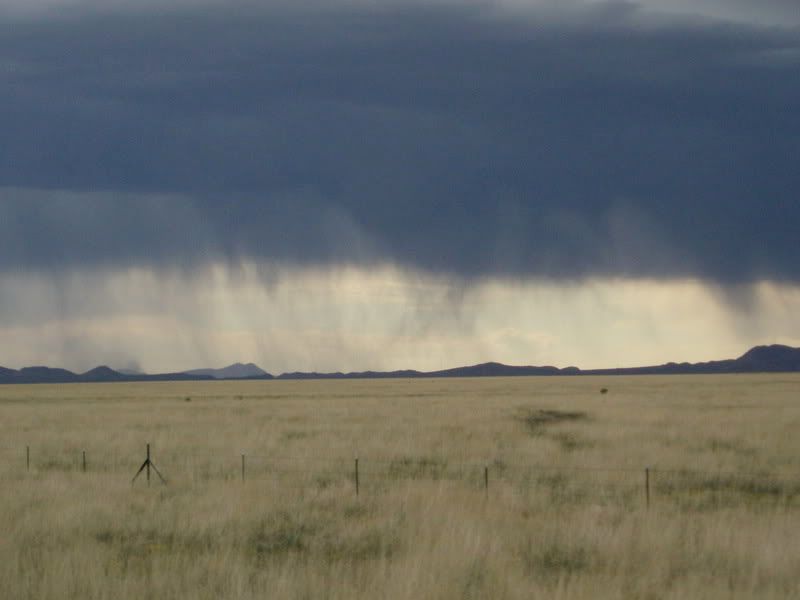 Driving into a thunderstorm towards an unknown destination can cause clenched fists. Which was all for the best as gale force winds aimed to transform Buttercup into the hot air balloon she's always dreamed of becoming.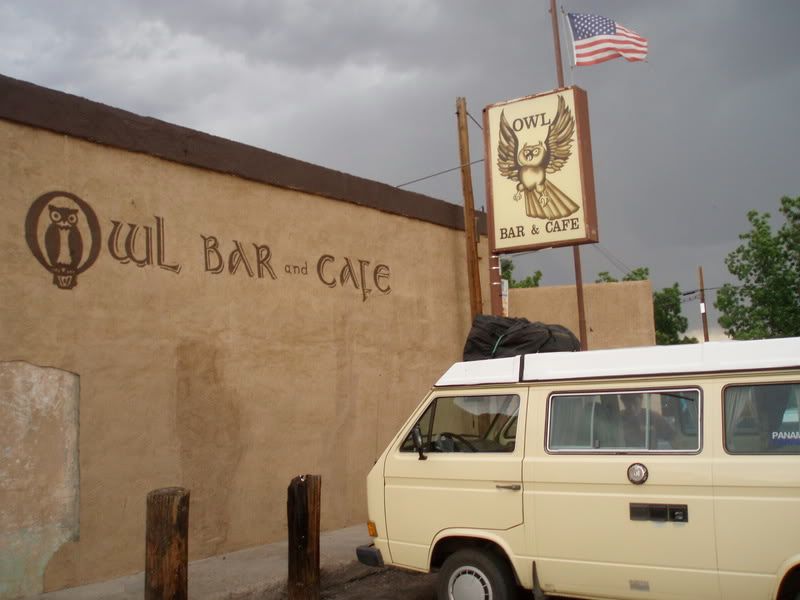 Two personal recommendations, a listing in the tourist book
and
it's the
Owl Bar and Cafe
. We had to stop. It's a diner of another era, small-boothed, wood and dollar paneled with an eight item menu. The green chili burgers are the attraction. The grilled cheese, not available with the home stewed chillies, are not. Our waitress unloaded a week's worth of stories. The credit card machine is down. Last time this happened, they lost power and the boss made them stay 3 hours past closing. The same boss who just earlier today called her "stupid"- you see what she has to put up with?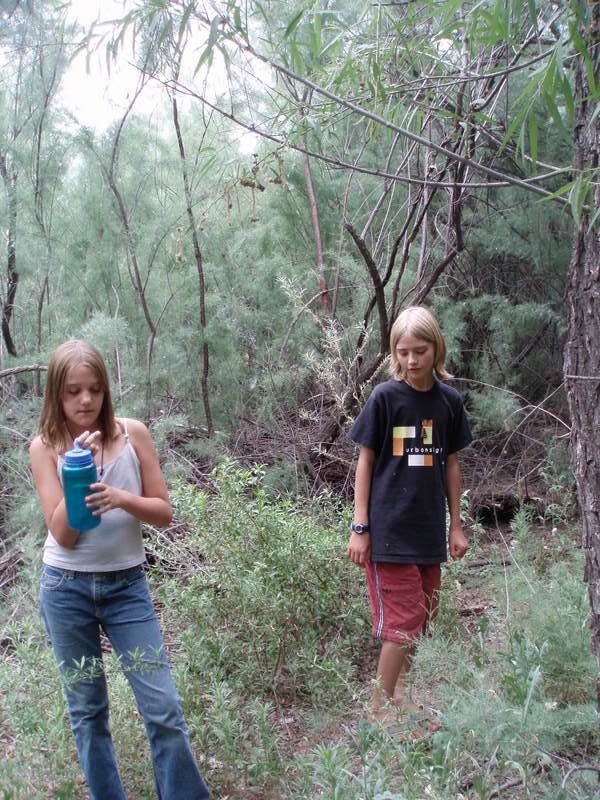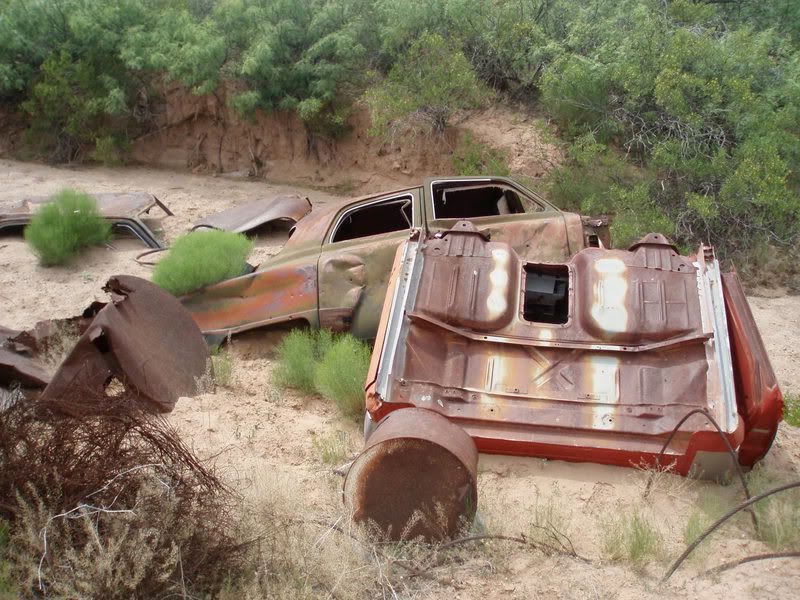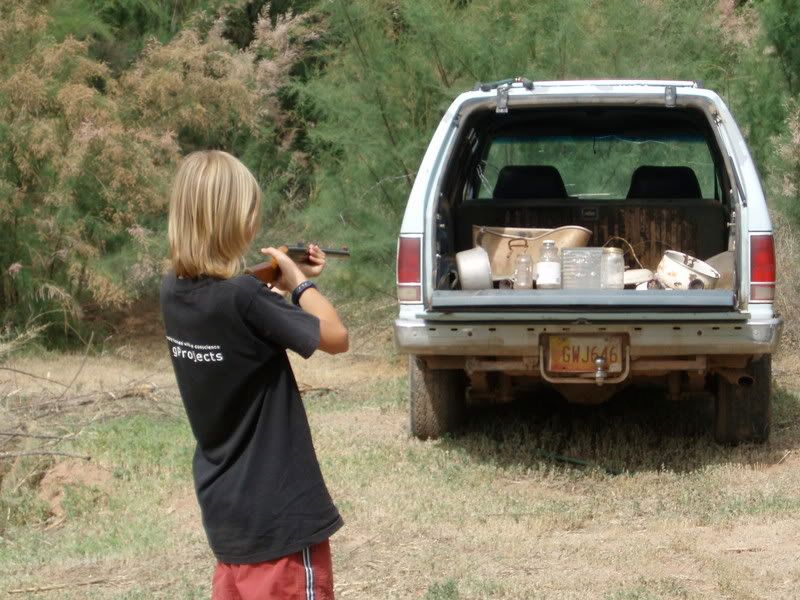 Kenny warned that the house was dirty, that the place was a mess. First in an email, next over the phone. This fact wasn't mentioned a couple weeks ago when we were initially arranging to visit. Over the historic rail tracks, across the Rio Grande, a few miles down a distressing dirt road, past the remains of ranches long divided, along a pile of trash not burned, and into the
Saltcedar
. Kenny says they were brought in for erosion control, maybe in the late teens? The wispy flowers require more water than the Bureau of Land Management would like to share with the first welcome immigrant, now invasive species. The first official letters came years ago, when Kenny and his 7 acres were still housing an old ranch hand who at 85, had been turned off the land he worked for half a century by the heirs of a long established estate. These are pueblita lands. In an empty Folgers plastic-gallon, Kenny's collected shards. Concave bits of pottery, decorated in black and white. The ghosts of the silver and turquoise mining days are alive and well, booms carry over the sands. Letters from the BLM spell an alternate plan for the area. No more amature archeology or small scale farming. The Rio will flood someday, and it'd be in everyone's best interest to guide the flood waters away from the city. With the cedars removed, the land should return to it's swamp form, closer resembling it's pre-dam state. So maybe this threat of removal contributes to Kenny's allowance of the "mess".

The government hasn't moved in yet. This spot just north of
Socorro
is still home to chickens, a small garden, budding orchard, an old bottle-filled Blazer perfect for target practice, and free-range peacocks. One loud peacock who calls in the night, lonely for his mate and/or the egg his neighbor duck is fostering. Insects hold a collective memory of this former wetland and after decades in the desert, continue to refuse relocation.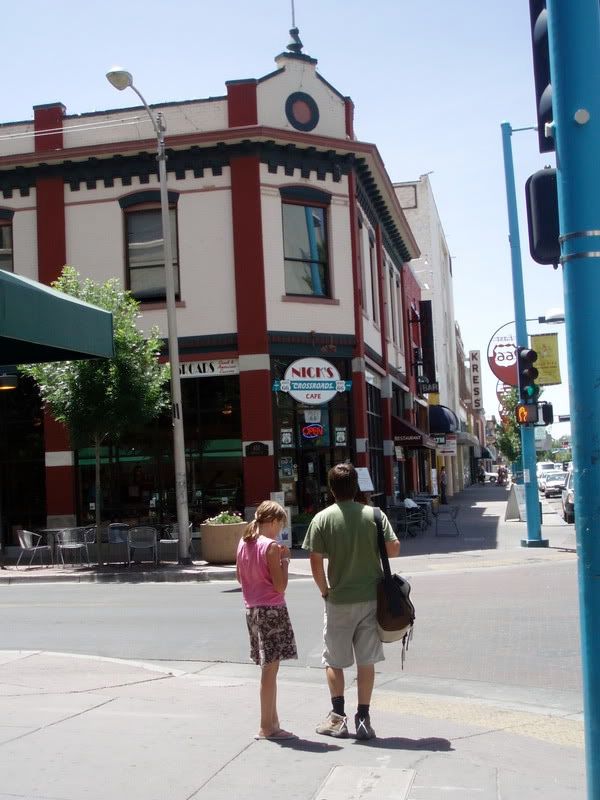 Old Route 66 runs through downtown Albuquerque. We fed the meter $2.05 and took a few hours to explore. At the downtown library Aslin read Oddly Normal and we found that
high speed internet
does not mean the same thing to all people. JC's NY Pizza offers a "Joey's bag of doughnuts" calzone, ricotta, mozzarella, pepperoni and mushrooms or, as we selected, a double slice lunch special.
Last night we settled just outside Santa Fe where Friday nights offer free museum hours. Two words. Georgia O'keeffe. Assuming we survive another night of New Mexico winds searching for their long lost ocean, we'll head into town tomorrow.