Past the earthships, deep into the dry mesa lands, lies a different sort of "off the grid" community. The houses are built of old dryers, crates and partially buried cars. Scrap materials from who knows where. Inside information tells of a division "out there"- artists on one side and gun-toting, tattooed-face bikers on the other. If we go out, we might be invited to visit with someone. But we should be careful. And we probably
shouldn't
try to take the Volkswagon out, unless we have 4-wheel drive. We don't. That would require a Syncro and surely even more repairs than a standard Westy. So north we go, though
Carson National Forest
, a majestic back drop for our drive-time entertainment
tale of witches, scholars and other worlds
.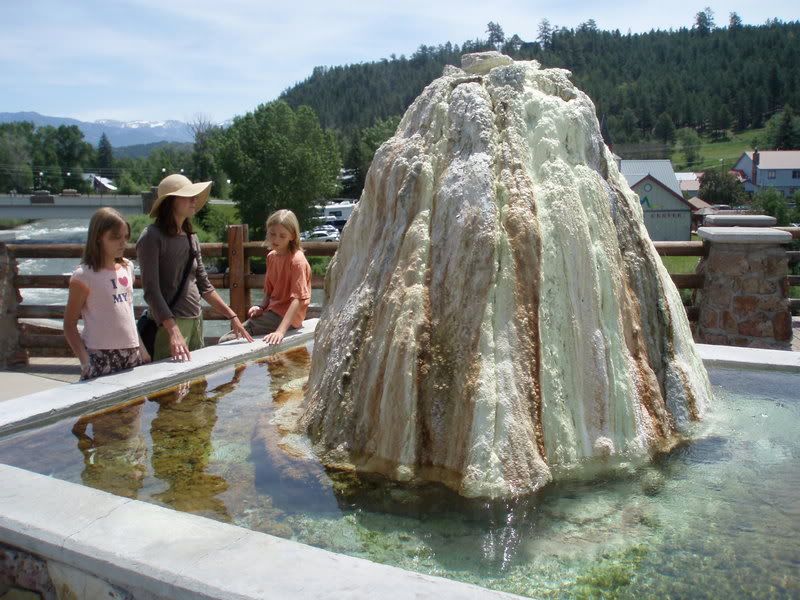 On our way towards
Pagosa Springs
, the town claiming the largest, deepest, hottest spring in world, we took Buttercup across the Continental Divide for a fourth time. Unfortunately the renowned spring is fenced against trespassers, preserving the source for an expanding resort community. If there are undeveloped pools up in the hills, the town isn't telling. Centuries ago, the Spanish battled the Natives for control of the spring's healing waters. We made space for a man with a 7-11 cup, collecting water from a tiny river-side spring. If I hadn't been watching the rafters while explaining to Aslin that we were not going to the theater across the street and watch Shrek, I might have asked if he planned to drink the sulfer-smelling water.
Past the archaeological site at
Chimney Rocks
we toured the privileged town of
Durango
. Set below the mountains along a river with a historic rail line running though, Durango's well aware of it's position in the western-town hierarchy. Historic buildings, successful mining, an art community,
wind-powered brewery
, the bed and breakfasts here might out number the residents. Just outside town, we camped at Lightner Creek where a 24 acre camp ground is for sale. Priced just under three million.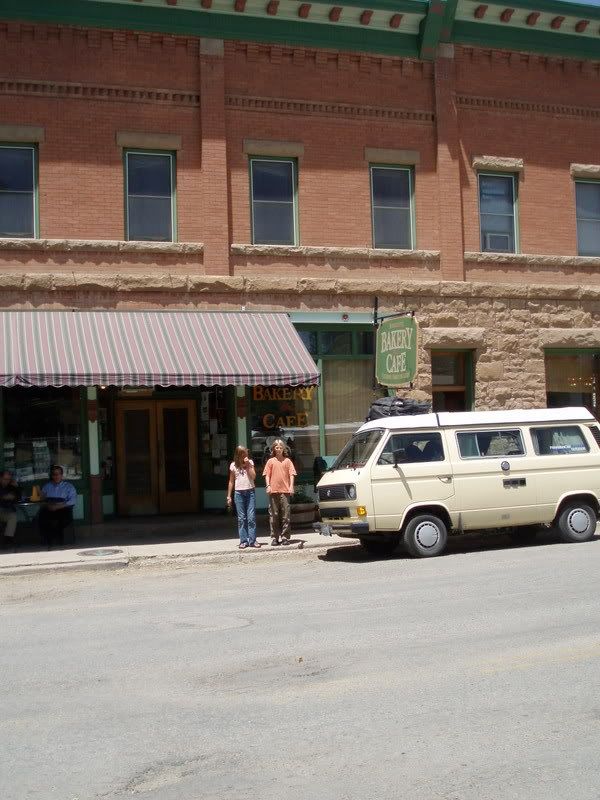 Three cheers for the 1,100 residents of
Mancos
! Residents of this mainly dirt road community sponsor an annual Renaissance festival and a fantastic bakery. Vegetarian, wheat-free and organic meals and treats are available at The Absolute Bakery and Cafe, across the street from the river.
Outside the charming river-rail town of
Dolores
, where the single grocery store stocks bulk grains and local produce, we've camped out with another great family. We really appreciate the wisdom of their ranger years and lessons they've shared of the
Anasazi people
, lands and ruins. We're currently praying that we have not passed on Ecoli or cryptosporidium or any other contaminated well water germs we may have picked up. (We were fine when we arrived, and three of us still are... fingers crossed.)
I'm feeling better at the moment. All most well enough to write the sad story of
Cortez
. Legend has it a well drilled in the center of town found no water. And a century ago town officials opted to pass on the rail option for fear of introducing "liberal elements" to the area. Eventually,
The McPhee Dam and Reservoir Project
, aimed at bringing more water to town, sparked a 7-year archeology project, uncovering 1600 sites in the immediate area. At the
Anasazi Heritage Center
, we visited two.