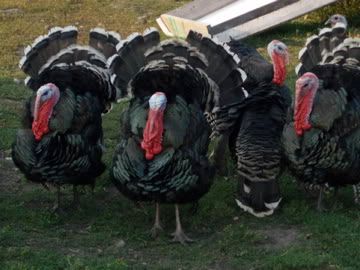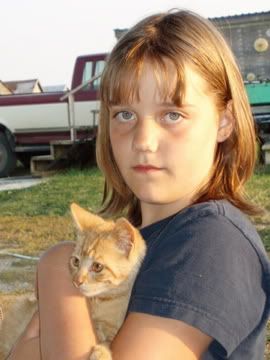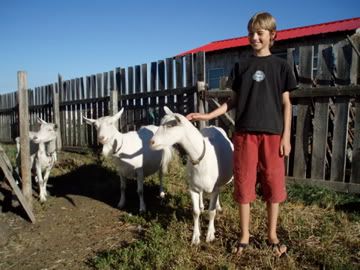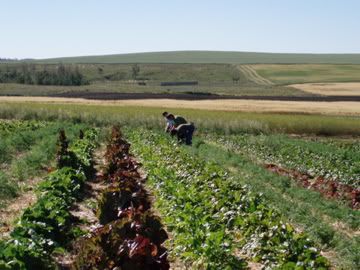 (8/28-9/3)"Ever been on a real farm?" Frances asked. Sure, a couple times a year to get pumpkins, berries or Christmas trees. At Blue Mountain we were introduced to a more complete picture of a working farm.
Exit at the overpass, 13 miles W, turn left, crest a big hill... We had no idea what to expect at the 140 acre (?) farm. Email and phone exchanges had been friendly, the work sounded interesting, but really, what would it be like to land in the middle of farm life? Half way down the dirt drive, we saw turkeys. We parked beside a raspberry patch, holding the remains of the season and eyed three houses, wondering where to knock. Holding a Beer, carrying a towel, Frances come out the door. "Oh, you're here from Seattle!" She smiled, "it's too hot to work today so we're going to the creek."
Twenty minutes down the road we floated the cooler down a stream, walking through waist-deep water on our way to a small spit of land. A few hours of splashing and conversation later, we knew we'd be just fine at the farm.
In 1974 Kris moved to the farm with his family and basically, it's been operating organically ever since. His parents still live on the farm, but have retired from much of the farm work. Frances has been at the farm for a year, and is "not a farmer"- though she sure plays the role pretty well. During our visit, she was hired as a morning radio host for one of Calgary's largest stations. Niko, five, gave us our first tour of the farm, including turkey poo, Kris's old hockey trophies, broken glass, and how to pick carrots. Also working the farm were Wwoofers Andy, from near by Red Deer, Fabian from Switzerland and on the weekend, Amber from Calgary.
Over the week, we cleared a potato field of 100's of pounds of weeds, including a mustard crop left from the year before. We picked golden, globe and tubular beets, orange, white and dragon carrots. At an outdoor wash station, we washed, re-washed and spun dozens of bags of greens. Of course you can't wash vegetables in warm water, so to avoid "the claw" as Kris calls it, we took turns on the dry end- weighing and bagging lettuce for market. We bunched chard and kale, using twine when we ran out of twists. Weeds and extra vegetables are fed to the animals, wash water is recycled to the green house and herbs. Beyond being certified organic, the farm is truly sustainable. We harvested yellow, green and purple beans in the rain and I will NEVER again think $5/pound is expensive. Sometimes I could recognize the difference between the shelling, sugar and snap peas, but after squatting in the field for a while, they begin to look the same. Brad milked a goat, Aslin collected eggs, Ukiah fed the pigs and we all chased and hid from the turkeys. New experiences all the way around. One wet day, Kris, Andy and Fabian butchered, feathered and skinned 10 chickens. I found myself more curious than disturbed. Blue Mt. supplies food to a couple natural grocery stores and has a stand at a urban green market in Calgary, where local currency is alive and well. (I've known of a few upstarts in Seattle- but nothing ongoing. Anyone have info?)
Along with picking, weeding and animal care came fantastic conversation- The system of higher education in Switzerland, current Canadian/Albertan folk music, the Cuban revolution, grey-water systems, the relation between mosquitoes and bananas, Batman, solar ovens in Morocco, displacement of indigenous peoples... Politics and government were conversation staples. "Tell me about this 'Three Strikes'", Fabian asked, "is it real?"
We learned much, ate well (except the falafel failure- anyone have an easy recipe?), and from a distance, watched snow fall and melt on the Rockies. The generosity of knowledge and space were a welcome introduction to farm life. Thanks much to Frances who suggested a movie night for the kids while Brad and I checked out nightlife in Calgary. There are just a handful of beers on tap at The Point on 17th Ave, but the cast of characters is extensive.
Kris left us with an open invitation, "If things get to crazy down there, you've got a place here. Assuming things are any better in Canada." It's good to have options...
Aslin- I like it at Blue Mt. but it is hard work. We got to see a pig and goats and oh yah, a chicken. We went to the market and it was so cool. Ukiah and I got to run the stand. It was great and big and Frances and I became friends.
Ukiah- Wwoofing... we picked spinach, peas and carrots and fed the chickens and pigs. My favorite thing to pick was the spinich, but I'm not sure it was my favorite to eat. Falafel was my favorite, really good homemade falafel. The people at Blue Mt. are really nice and they have a lot of space (land). Lots of animals here: pigs, goats, chickens and turkeys. We ate a lot of potatoes here. I especially like the Farmer's Market in Calgary. Good brownies and bread.