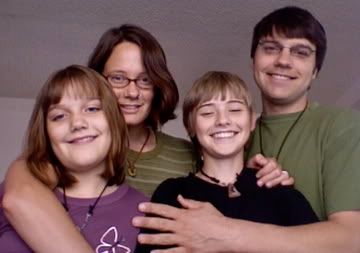 (yes,

these

are the haircuts you get when thinking you'll be on the road -away from our favorite stylish hair-crafters- for who knows how long.)
"So, when are you leaving?"
Early August. Maybe mid. Okay, later than we planned, but we're out the door today, Friday 8/18. The question remains, should we catch a matinee of Little Miss Sunshine before we go?
"What made you want to do this?"
This trip is inspired by the need to "try something different." We considered a range of "somethings"- but opted for the extended road trip and organic farm work. Still on the back burner are thoughts of volunteer vacations to Greece to care for sea turtle nesting grounds; farming or teaching english in Croatia, Ecuador or Argentina; recording whale migration in Scotland; or farming and ecobuilding on Maui. Ok- it looks like those will be trips for another year. But we're definately going to Mesa Verde in Colorado.
"What about school for the kids?"
They won't be going. Having spent most of their school careers at the
Clearwater School
, they're fully capable of learning and growing in non-traditional settings.
Ukiah
"We'll be learning a lot more practical stuff on this trip anyway."
Aslin
"I'll really miss my friends, but you know how it is, sometimes you just have to get out."
"What about work?"
Planning and preparing for this has been a job in itself! On the road we'll be doing some volunteer/work-trade work through the
WWOOFer
program.
Nora
"After 8 (or 10) years at the
preschool
I'm taking a leave of absence. I'm looking forward to the inspiration Katie and Lilly will bring to the school."
Brad
"I quit… but I'll have the option of
going back
. I'm keeping an open mind."
"Where are you going?"
It's a really open ended trip, and we're planning just one leg at a time. We'll head east through
Idaho
, and into Montana and
Glacier National Park
. Then, up into Alberta where we'll be volunteering at farms in
Carstairs
(N of Calgary),
Millet
(S of Edmonton) and
Mayerthrope
(NW of Edmonton). From there we'll cross the
Rockies
, spend some time in
BC
and swing back through
Seattle
in early-mid October. If all is going well, we'll
head south
for the winter.
"What about your house?"
Dawn and Kailin will be holding down the fort. Steph and Kat helped for a while, then Misty moved in despite the squirrels. Thanks Ladies! ;)
"Are your pets coming?"
Cutie loves to come on walks with us, but he never crosses the busy streets, so he'll be staying home. Plus, he's working on a new relationship with Phaedre and kind of wants to hang around and see where that will go.
Shell couldn't find any good burrowing spots in the van, so he'll be staying home too. We're crossing our fingers that the van will carry us into the SE and we'll be able to send him a post card from his ancestral home.
"Why didn't you do this 10 years ago when gas prices were affordable?"
Aslin-
" I didn't exist."
Brad-
" I wasn't' brave enough."
Nora-
"We hadn't closed on the house yet, so I doubt the bank would have agreed to refinancing with cash back."
"Can we leave comments on your blog?"
Please do! Just click "comments" then "post" your response. We'd love to hear from you- questions, comments, suggestions for places we should visit, phone numbers for your cousin who might let us stay with her for a night in New Mexico... We'd also appreciate if you'd sign your name.