On our way out of town, stuck in I-5 traffic outside of Everett, the van ran too warm for comfort. We tried an alternate route, but with no mass-transit, the back up on Hwy 9 was worse. Listening to the wisdom of many Westy owners we choose not to push it. We still needed batteries, and maybe that Shucks would have a cup holder. As long as we're exploring the strip-mall amenities, why not enjoy some teriyaki? An hour and a half later traffic was still stop-and-go. I cursed the single drivers in the carpool lane and watched the temperature gauge. We made it to Concrete just as the sun was setting.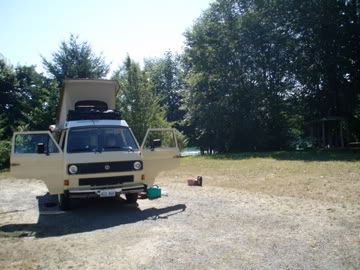 First Stop: Concrete - Saturday, 8-19 - Ukiah
Yay, an RV park! It's funny, because if your standing near the vanagon, and you look one way, it looks like a beautiful campground… On the other side, it looks like a small, yucky RV park… Which it sort-of is. We had been driving for a while (However, we didn't cover much ground due to really bad traffic.) And it was starting to get dark… We're staying here, because the name is so appealing. We played catch for a while and checked out the river. Now I'm tired. They (Aslin, Brad and Nora) are outside playing with Aslin's Chinese jump rope.
Concrete offered a festival complete with free ice cream and a warning from a man camped in a lawn chair in his front yard. "Don't park there. It's a main street and if you get hit, you'll be liable." There was no sign, but we moved anyway.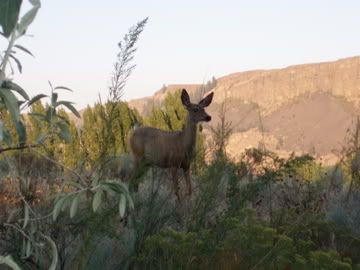 Second stop: Marble mount – Sunday, 8-20 – Ukiah
Its time for some real camping! No electricity, here, which is fine, it's the fact that there's no water that surprises me. It's really quiet here, except in the morning when the blue jays were apparently making a lot of noise, I didn't hear anything, though. There is a nice river here; Aslin lost her flip-flop in it….
Our first drive through the mountains, east on Hwy 20 across Washington pass in the north Cascades. I crossed my fingers. Lights flashed in front of me, another Westfalia, saying hello, renewing my faith. Over the next 80 miles, we waved greetings to another half-dozen Westys, including one older than ours, and carrying 4 or 5 bikes.
At Mazama the van was still running with no fuss. A man in white walked towards us. White robe, white hat and as we drove closer, a long grey-white beard defined the man. "Is that Jesus?" I asked Brad, squinting. Hanging from his neck, the cross confirmed it.
"It is Sunday. He's just walking home from church," Brad answered.
He greeted us, first with a wave, then the peace sign.
Third stop: Steamboat rock state park – Monday, 8-21 – Ukiah
Go for the hook-up campsite, and you get another RV park… We're right by the water, but its more of a mosquito swamp than anything else, I would never swim in it, I saw some gasoline at the edge. There are barely any trees here, and all the sites are way too close together, oh well, we've been driving more than long enough. But I still can't believe the people next to us brought a microwave!
Note- Steamboat was redeemed with further exploration. We found a private swimming beach and studied the canyons, envisioning rivers long gone. Deer families roam freely and sage covers the hillsides.