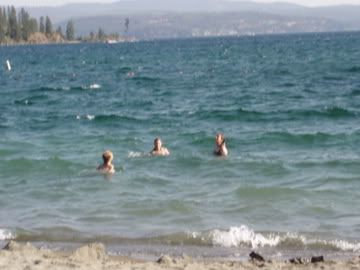 Bakery and Coffee House
213 E Sherman Ave
Coeur d'Alene, ID
Aslin- "My ice cream was good- strawberry with real chunks of berry in it. Not like the Safeway kind. It was really frozen hard and still creamy."
Ukiah- "I highly recommend the vanilla ice cream. You could taste actual vanilla bean. It almost tasted homemade."
Fresh pastries baked on site, homemade soup, ice cream and coffee. The wood beams, brick wall, and lovely mural of an old red Schwinn with a wicker basket carrying tulips were welcoming after a particularly unpleasant night.
We've struggled to find our preferred campgrounds- maybe our map reading skills are not yet fine-tuned. Maybe shifts in federal spending priorities have led to park closures. Most likely, we've been distracted by the scenery, trusting that another site will come along.
Last night the parks didn't have camping, the rest stop didn't allow over-nites and I wasn't quite prepared to set up in a truck stop, Wal-Mart or casino parking lot. (I've gathered a lot of tips on places to stay for free.) Blackwell RV Park, here we come.
A lovely resort on the edge of a lake… neighboring a pulp mill (apparently operating gave and swing shift.) 8:30 pm, 96 degrees. The mosquitoes owned the place and were not deterred by citronella, lemongrass or any other hippie balm. Whining and itching, we packed into the van, popped the top, put on the rear bug screen, made noodles with peanut sauce and managed to survive.
The truck stop would have been free, quieter and probably wouldn't have objected to a small clothesline.
The sign promised ESPRESSO- but I was nervous when the woman behind the counter asked the difference between a "tall" and a "short" americano. In preparing to travel the country, I've given thought to an array of cultural differences we'll encounter, but this scenario never came up. A second woman stepped in and we shared our appreciation for a small, say 6oz, "short". Fantastic and much needed coffee. Thank you. It carried me through a day of wandering the town including an afternoon at the public library, a long swim in lake Couer d'Alene and our first trip to the Laundromat.