A hundred thousand acres of ranchland gave way to hillsides lined with vines. Copper-colored ribbons flicker warnings to next spring's birds. Another winery with "stunning patio views" announced at every highway exit. Trendy tasting room/galleries dot the newly revitalized down town core. The wine country was unmistakable. We, were lost.
We circled the cemetery three times before stopping at a Honda dealership to ask directions. Certain roads were missing from the map and intersections could not be expected as they appeared in the 2005-06 Paso Robles visitor's guide. For all our efforts, we found ourselves off the beaten track with a winemaker who ignored us until the preferred customers, women wearing foundation and men in loafers, asked about our kids. We joked with the other customers while Mr. Wine worked to project nobility, and poured with some hostility.
Our next stop was a tasting room for hipsters. Aslin skipped "zinbitch" and opted for the complimentary "Biker" tattoo. Stylish baby-doll tees, $15, hung behind the bar. Here the pours were hurried. The "wine pushers" did slow for a bit of gossip on wineries to avoid and told touching stories of three-legged cats. We waved thanks and followed their directions to a small organic winery.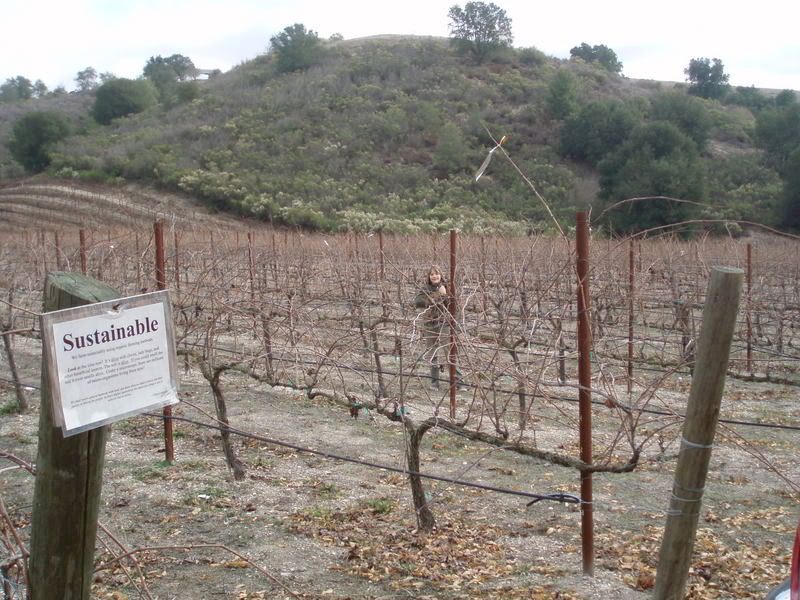 Up the drive, past the horses, past the rings of lavender, we parked across from the goats, facing a small sing posted at the end of the row of vines. "Sustainable." Other signs gave brief descriptions of grape varieties, soil conditions, and incorporating feng shui and farming practices.
Pipestone Vineyards
makes an extraordinary fist impression.
Tasting room introductions led to the easy sharing of stories. Jeff and Florence run a family farm, open to the public. For 10-years, they've received the loud talk of LA liberals who support organic farming and leave empty handed and welcomed Orange County conservatives who are unconcerned with the environment, and buy cases of the wine they enjoy. We left with a bottle Rhone Style Red and a little California wine-world enlightenment.
Last night we joined the Pipestone family for dinner. They fired up the cob-oven and Ukiah built an olive and mushroom pie. We talked schools, agriculture, politics and travel and enjoyed their Grenache, especially well paired with the wood-fired pizzas. A welcome party for Brad's birthday.