With two bottles of sparkling cider, we rang in the New Year on the dunes of
Morro Bay beach
, where the people watching was fantastic. Some kids built castles, others drove remote-control cars and some took running leaps before belly-flopping in to the sand. The wind encouraged one man to attempt flying. In a wetsuit, he harnessed himself to a gigantic kite contraption. We squinted into the sun, watching him skim the sand for about 10 feet before rolling tripping back to ground. Birders with clipboards directed their binoculars at Morro Rock and we set our attentions on rock scrambling.
Atop the rock barrier, the crush of waves retreated to a tranquil sunlit aquamarine, only to cap white again. One lone duck went along for the ride. We tempted the spray to tag us, edging out until a swell prompted our common sense.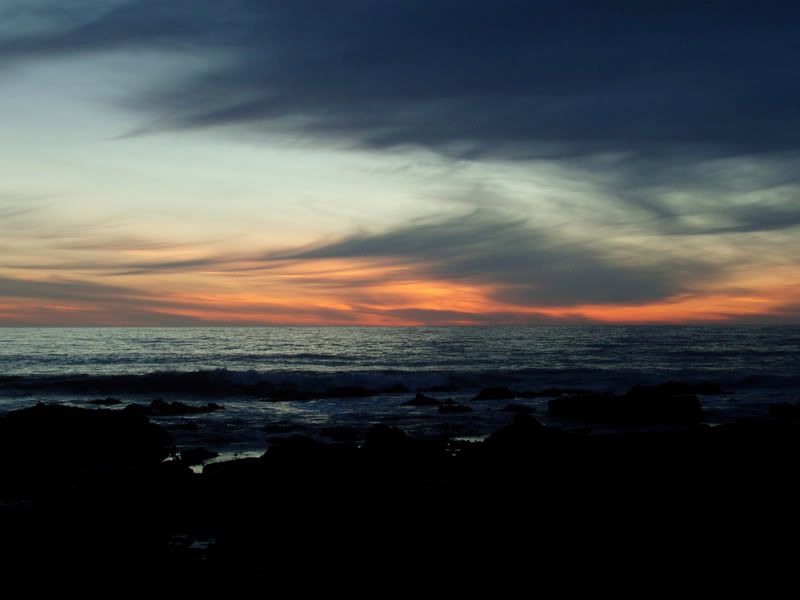 We'll close the first day of our New Year back at
Camp Ocean Pines
. From our deck, we watch the sea lions wake as the sun sets.
Health and Happiness,
Love and Laughter,
Peace and Prosperity,
and a dozen additional pairs of blessing for your New Year!