A man in a dark wool trench coat and starched sky dress shirt hooked a leash to the cocker spaniel's coller. Past the outdoor doggie gym, away from the noise of 15th Avenue. No cell phone, no cigarette, just a young man in patent shoes walking a dog who looks and jumps and calls like Tawney. She's been neutered and it will be another week before she is cleared to fetch or climb through tires. The man's (cashmere?) checkered scarf compliments the dog's golden hair and both blow in the wind. All the dogs need walking, twice a day.
An older woman, close cropped silver hair highlighting her diamond studs, sits on the floor. Wrapped in a small pen, legs tucked at a not uncomfortable 45 degree angle, the
socializer
sits an inch or two away from the litter box. Jeffery Eugenides
Middlesex
lies open, upside down, across her thigh. She picks it up a half dozen times, likely rereading the same two paragraphs for an hour. A red-eyed, white rabbit sniffs, retreats, sniffs and paws his the bald spots along his back.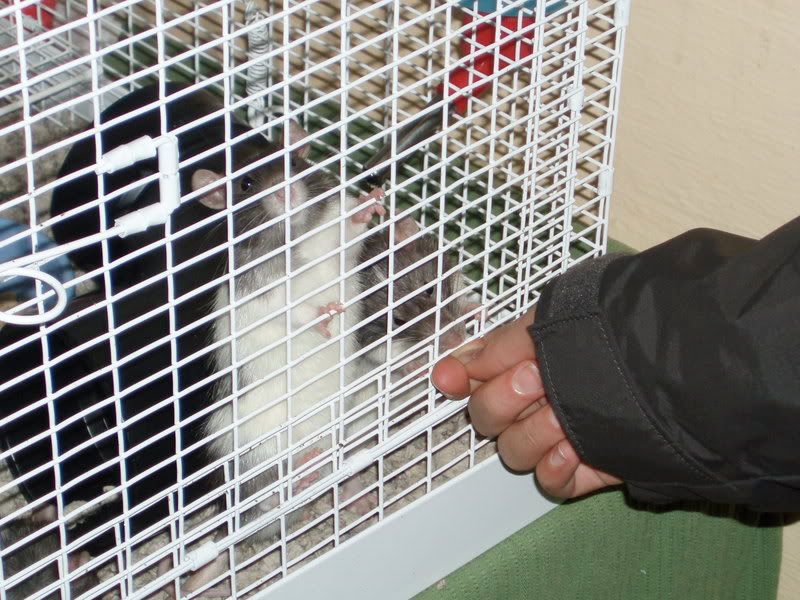 We came for the rats. The Rat Pack boys and girls keep separate apartments, a dwarf hamster centered between them. The girls, slightly smaller, nose over one another to reach us. Aslin's in, pinky finger from each hand offered for exploration. I follow with one shy knuckle, Ukiah eventually joins us. The trio of boys, interested initially, move on to climbing the walls before we've fulfilled our visiting need. Ukiah and I watch the little guy, the one with only 3 feet and half a tail while Aslin returns to the girls. Maybe we'll need two cages too.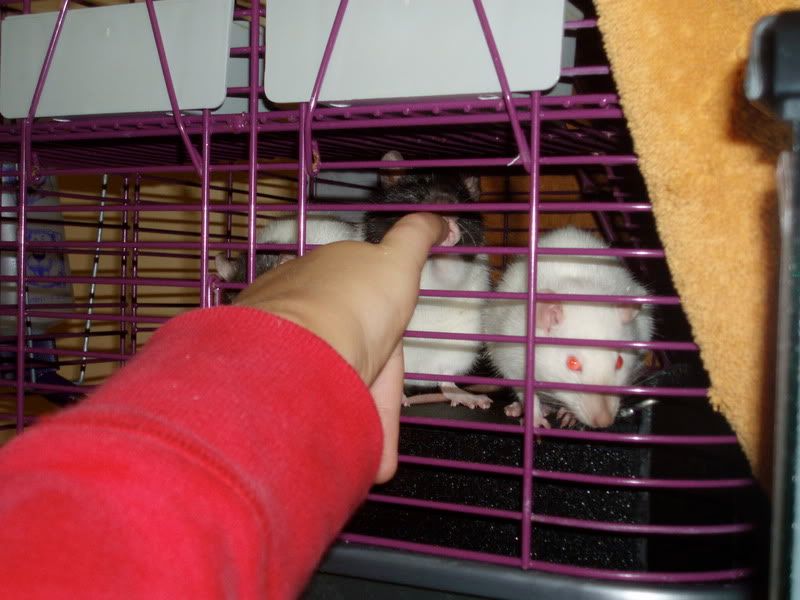 We left the
shelter
with our adoption application and volunteer information. I'm not quite ready for pet rodents, and have some concerns about Cutie's relationship with our potential new pets, but am keeping the words of a stranger in mind.
"Don't worry about it too much," he looked me in the eye, and I think would have held the bus door open for us if it weren't automatic. Charmed and confused, I watched him climb the stairs and settle on the back seat of the 2. From the sidewalk, I gave a muted wave and rushed to join the kids in a 4-block fight with the wind. We bought
mini-doughnuts
to share with our new group, a treat to mark the end of the
library
scavenger hunt. I didn't worry about transfats or sugar and am trying not too be concerned with the lack of parental excitement over our group offering.