This is what democracy looks like.
Dozens of classic yellow post-it notes tracking votes or maybe pledges. A woman with a baby on her back ticks names off a sign in sheet. She writes, scratches, counts and writes again. One sticky on top another, lining the ones, tens, hundreds columns. She counts in her head, on her fingers. It's Obama 4:1 and the baby doesn't cry.
But what about experience? And all that was swept under the rug? It's the health care plan. Remember the economic boom, budget surplus? Who can beat McCain?We're ready for change. The end of the war. Pro choice. Tell me why.
My neighbors talk. Argue. Implore. I look for the 6 who held who held our precinct for last election cycle. Are they glad to have our company? Do they puzzle why we left them, alone, to determine the second WBush challenger? Do they fault us, blame themselves?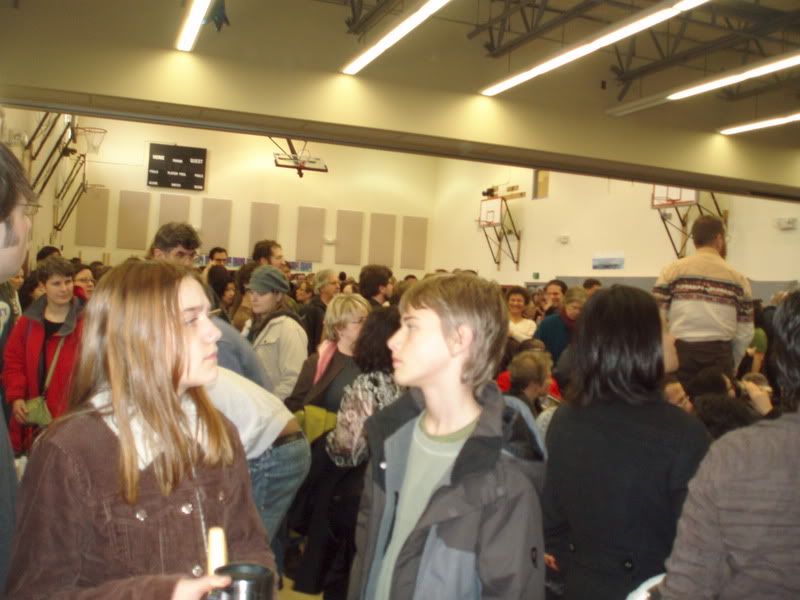 There'd be more conversation. Maybe answers and surely tears. But the elementary school is filled. Beyond capacity. In violation of fire codes. The line outside circles the block. We're running out of sign in sheets. There aren't enough chairs. The babies will grow tired and the sticky won't hold my vote to the clip board forever. We've exceeded the space allocated our democracy. After pledging the flag, naming a candidate, and possibly making a donation to the party, we are welcome to leave.
I drag my feet. It's a flawed system of broken pencils and too few volunteers. A charming, near hypnotic chaos with errors more personal, more public, more likely to be corrected, than those of the
machines
,.
(I suppose lack of timeliness is just one of the issues preventing my successful career in journalism. Happy Valentine's Day!)